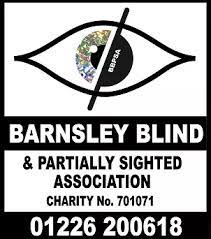 Description
We are a volunteer lead group and have no paid workers. Our volunteers give time, advice, support and guidance to blind, partially sighted,  their family, friends and carers with in the Barnsley community and surrounding areas.
We have no sponsors but are funded through donations, bequests, small grant's and fund raising by our volunteers. 
We run a resource centre to give blind and partially sighted people access to apparatus and aids which can make their lives easier.
We liaise with other groups and professional bodies to ensure the voices of our community are heard, their views are considered and our drive is aimed at bringing about change and education to meet our needs and to generate a more inclusive society.
PROVIDING A RESOURCE CENTRE
We provide a resource centre where clients can access, see and try apparatus and or aids that make daily life easier.
Resources include the following:
Canes, Walking Sticks, Liquid indicators, coin holders, plate none slip mats, speaking watches and clocks.
We can also access bigger items like talking microwaves.
DROP IN AND ADVICE CENTRE
We run a drop in and advice centre to listen, advise, signpost, assist and or support according to need, often liaising with other agencies and bodies such as DWP, Council, Transport providers, Medical personnel, Schools and Social groups. We complete forms both online and in paper format and or place telephone calls on behalf of our clients and represent when needed.
SOCIAL CLUB
We also aim to provide social activities for our clients to relieve isolation and depression, and also to provide access to peer support and professional groups. Currently we have two regular groups, one a social club held on Friday each week where members can chat, share a meal, and play games. The second group is a drop in format where members meet and chat with their peers. In addition to this we have arranged holidays and day trips for our members, and also arranged meals out.
We also give access to other groups who provide similar social activities in the Barnsley and surrounding areas. (currently  suspended due to covid)
BBPSA is part of the vision strategy for Barnsley & the UK  Vision Strategy is a national drive to identify the needs of visually impaired people and then to begin to address those needs through a national Vision Strategy
​38 Modern House, Summer Lane, Barnsley S71 2NP
---
Opening Times
Resource Centre and Drop in Advice Centre Monday to Friday 10am - 2pm (except when on home visits) please call ahead
Social Club meets Friday 12.30pm - 2.30pm (suspended due to Covid)
Home Visits available by appointment when needed, please phone in first instance to arrange. We will invite you to the resource centre when possible.
---
Contact Details
Email address: bbpsa@btconnect.com
Phone number: 01226 200618
Mobile number:
Address: The Resource Centre, 22 Regent Street South, Barnsley, S70 2HT
---
Locations
Address details:
The Resource Centre, 22 Regent Street South, Barnsley, S70 2HT
---
---
Published: 09 August 2019
---