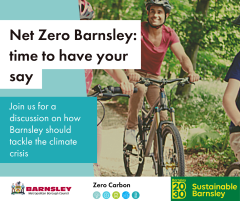 Description
People across Barnsley are invited to share their thoughts and ideas about how we move positively into a more climate-friendly future. Barnsley Council has an ambition that we will reduce our carbon emissions to be a net-zero carbon borough by 2045, and we are looking into how we can make that ambition a reality.
A key part of this work is hearing the views of Barnsley residents. To help with this, everyone living or working in the borough is invited to take part in a conversation on our online Commonplace platform.
We want to find out what the people of Barnsley think about the reducing our carbon emissions, and how we can make sure the change a positive one that generates jobs, reduces health inequalities, and supports a safe and just society. We want to find out what things you are looking forward to about a low carbon future, but we also want to hear about the things you might be worried about.
To take part, simply visit  https://barnsleyzero45.commonplace.is/ to join the conversation, then share with your family, friends so everyone can have their say.
We are also offering an online event for residents to find out more. The event will take place on Thursday 9 December from 2pm to 4pm. You can book via Eventbrite
If you have any questions on the consultation, contact us at energy@barnsley.gov.uk
---
Opening Times
Thursday 9th December 2pm - 4pm 
---
Contact Details
Email address: energy@barnsley.gov.uk
Mobile number:
---
Locations
Address details:
Online
---
Published: 29 November 2021
---