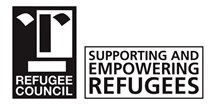 Description
We are getting ready to meet again face to face.  Dates and times are to be confirmed.
Our conversation club offers some basic English teaching and English practice together with quite a lot of orientation and cultural input plus fun, friendship and a warm welcome to Barnsley.
For volunteers it provides an opportunity to get to know people from around the world, to develop an understanding and empathy with refugee issues, and to make a positive contribution. It is perhaps due to the group's emphasis on friendship that this conversation club has developed the way it has.
This venue is part of the Barnsley Safe Places Scheme.  For more information, visit https://www.safeplaces.org.uk/member-schemes/barnsley/bcvs-trading-23-queens-road/
---
Opening Times
Tuesday 5pm 
---
Contact Details
Contact name: Christina Grant
Email address: Christina.Grant@refugeecouncil.org.uk
Role: Coordinator
Phone number: 01226 320 111
Mobile number:07917 135843
Address: 23 Queens Road, Barnsley, S71 1AN
---
Locations
Address details:
23 Queens Road, Barnsley, S71 1AN
---
Other Details
Cost: FREE
Eligibility: Refugees and Asylum Seekers
---
Published: 09 August 2019
---