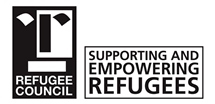 Description
We are here to help. We have an appointment service where our advisors can help you with:
How to claim asylum 
Financial Support
Applying for housing and benefits
Help accessing English classes
you can book an appointment to see an advisor by contacting our advice line.
This venue is part of the Barnsley Safe Places Scheme.  For more information, visit https://www.safeplaces.org.uk/member-schemes/barnsley/bcvs-trading-23-queens-road/
---
Opening Times
Monday to Thursday 9.30am - 5.00pm
---
Contact Details
Contact name: Refugee Council
Email address: Christina.Grant@refugeecouncil.org.uk
Phone number: 01226 320111
Mobile number:
Address: 23 Queens Road, Barnsley, S71 1AN
---
Locations
Address details:
23 Queens Road, Barnsley, S71 1AN
---
Other Details
Cost: FREE
Eligibility: Refugees, Asylum seekers and Migrants in Barnsley.
---
Published: 09 August 2019
---