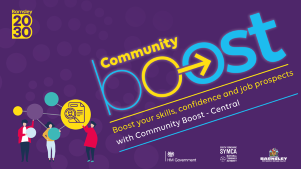 Description
The Chilypep CRF Support Fund is a grant for young people in Central Barnsley to assist them in breaking down barriers to work and further education. This could include; travel fare to and from interviews or training, accessing training opportunities and courses, or something as simple as interview clothes.  We are processing applications as quickly as we can.

There is no minimum or maximum amount that young people can apply for and all applications are considered on a case-by-case basis. Applications are usually funded from £50-£200 but this is flexible.

Please use this form below to apply to the Community Boost Support Fund, https://forms.office.com/Pages/ResponsePage.aspx?id=JBfIZffD_U28ryiSI-Y9dg2PInlxtHJArO-4WHmQ3QlUNFFTSjRIUlpYVDA1QTdMNFYwUllNSVlPNCQlQCN0PWcu  or contact us on charly.calpin@chilypep.org.uk or 07966454451 if you would like support with your application.
To apply to the Support Fund you must:
Be between the ages of 16 and 25
Have not received Chilypep CRF Funding before
Live in 

Barnsley: Central, 

Dodworth, 

Kingstone, 

Stairfoot, 

Worsbrough.

You MUST be actively looking for work, further education, training or volunteering.
In your application you should let us know why you need the Support Fund:

1. What you will spend the funding on
2. Why this activity/item(s) will support you to access employment, training, further education or volunteering.
3. Any other information that you think is relevant

Examples of things we might fund:
Interview clothes

Travel cards 

Training fees

Equipment
Books
The Support Fund cannot be used to pay for:
• Drugs: either illegal substances or legal drugs (e.g., alcohol or non-prescription nicotine products)
• Debt alleviation
• Rent payments 
All Support Fund payments will be made by:

• Vouchers (of your choice)
• Items purchased directly and shipped to your address

Cash payments will not be made.

The application process:

Chilypep CRF staff check applications daily, Monday-Friday. We aim to contact you within 24 hours of your application.

A Chilypep CRF staff member will contact you by telephone* to confirm your application and ask any relevant questions. At this point, staff will also be able to provide information and supported signposting to other services that may be able to help you at this time. We will not be able to process your application further until we have spoken to you.

*Please let staff know if a telephone call will not be possible

Applications are anonymised and considered by a steering group of young people (aged between 16-25) who have been trained in line with Chilypep's values. The steering group will be overseen by the Chilypep CRF staff member who is processing the application. The steering group aim to make a decision on applications within 48 hours.

The Chilypep CRF member will then contact you with the outcome of your application. If it is positive, they will ask you how you would like us to send you the vouchers or order the items for you.

The total time between applying and hearing an outcome is usually 3-5 working days. Where possible, funds will be given on the day of a positive outcome.

All Support Fund applications are considered with safeguarding and child protection concerns in mind. Should safeguarding concerns arise, Chilypep staff will follow the appropriate actions in line with Chilypep's Child Protection and Safeguarding policies and procedures.


This project is funded by the UK Government through the UK Community Renewal Fund and supported by the South Yorkshire Mayoral Combined Authority. 
---
Opening Times
Application end date - 22nd July 2022
---
Contact Details
Contact name: Charly Calpin
Email address: charly.calpin@chilypep.org.uk
Phone number: 0114 234 8846
Mobile number:07966 454451
---
Locations
Address details:
Central Barnsley
---
Published: 11 May 2022
---