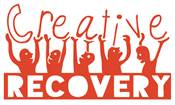 Description
At Creative Recovery we have a number of weekly groups to support anyone wanting to develop their creative skills.
Studio Collective 
This is a hub for people who need the time and space to develop their own artwork.  Mondays also include master classes featuring professional artists sharing their work and skills. The Studio Collective is a closed group, but Master Classes are open to anyone connected with Creative Recovery.
Forum For Arts and Related Topics
A place for sharing new ideas and influences and supporting each other with creative projects.  Drop-in, open to anyone.  Visit our Facebook page for dates or text Helen on 078 3393 6019.
Tutor-led Studio
A session for people wanting to develop their art skills in a supportive environment working alongside an Artist/Tutor.  Visual art demonstrations and talks upon request.  Attendance is on a drop-in basis following initial induction and registration.
Live Arts Café
Includes live music, food, poetry, arts and crafts in a relaxed and friendly environment.  All are welcome (children under 16 accompanied by an adult).  No booking required.  To avoid holiday dates text 078 3393 6109 and confirm arrangements.
---
Opening Times
Studio Collective - Monday 12 - 3pm (starting 28th March 2022) at Temperance House
Forum for Arts and Related Topics - Monday 4 - 6pm (every two weeks) at Temperance House
Tutor-led Studio - Tuesday 11.30 - 2.30pm (weekly) at Temperance House
Live Arts Cafe - Wednesday 5.30 - 8pm (weekly) at Digital Media Centre
---
Contact Details
Contact name: Creative Recovery
Email address: wearecreativerecovery@gmail.com
Phone number: 07833 936019
Mobile number:
---
Locations
Address details:
Temperance House, Pitt St, S70 1AW
Digital Media Centre, County Way, S70 2EQ
---
---
Published: 18 January 2022
---