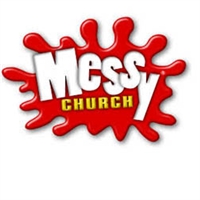 Description
Due to the Covid-19 (Coronavirus) pandemic and following the guidance issued by the Archbishops, we are suspending public worship at All Saints and at St Michael's.
Sadly this means that the church buildings will remain closed until further notice.  However, the church is not just a building! The church family is continuing to meet online to pray and worship God.  Let's Keep safe, but also connected, during this time of crisis.  Please visit our website for service times and more information.
Messy Church is an informal way of inviting families to church, involving fun.
It is found across the World and it's values are about being Christ-centred for all ages and is based on creativity, hospitality and celebration.
Firstly it involves crafts and other activities which are hands on, hands in, and sometimes feet in too! Secondly there are parts of the meeting where people are doing different things rather than everyone doing the same thing at the same time.
A typical Messy Church meeting involves singing, a Bible story, prayers, crafts, and then a two-course tea together. It is open to any child so long as they are accompanied by an adult, who is responsible for them during our time together.
Our aim is to learn together more about Jesus Christ, and through Him to experience more of God's love and grace in our lives.
Please check our website for the date of our next Messy Church.
---
Opening Times
Once a month Wednesday 3.30pm. Please see our website for our next meeting.
---
Contact Details
Contact name: Revd David Hildred
Email address: rector@darfieldallsaintschurch.org.uk
Role: Coordinator
Phone number: 01226 752236
Mobile number:
Address: All Saints Church, Church Street, Darfield, S63 9JX
---
Locations
Address details:
All Saints Church, Church Street, Darfield, Barnsley, S73 9JX
---
---
Published: 09 August 2019
---