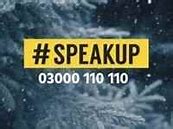 Description
WE have launched our #SpeakUp campaign in partnership with IDAS, encouraging everyone in Barnsley to take a stand against unhealthy relationships.

We want people living in abusive relationships to know that they don't have to suffer in silence.

It's important we all know what support is available to us, so while you're out and about in Barnsley, keep an eye out for our IDAS campaign and feel free to take a card for yourself, a family member or friend.

If you are having problems in your relationship or are you someone who abuses your partner and want to get help?.
Contact us for advice and confidential support, contact IDAS on 03000 110 110 or visit idas.org.uk #SpeakUp #LiveIt
---
Contact Details
Contact name: IDAS
Email address: info@idas.org.uk
Phone number: 03000 110 110
Mobile number:
---
Locations
Address details:
Barnsley uk
---
Published: 07 January 2020
---