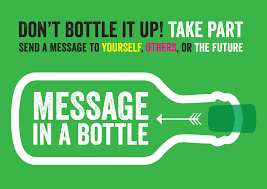 Description
Message in a Bottle is a public engagement initiative that supports the COVID memorial sculpture project that Barnsley Council are undertaking. You can find out more here - www.barnsley.gov.uk/services/love-barnsley/barnsleys-covidmemorial-project
The initiative encourages people not to keep their emotions bottled up, but to share their experiences of living through the coronavirus pandemic. It's a tool to engage
with the public and key workers, to actively encourage them to share their stories and provide support as part of the healing process, on a journey of which we are all part of.
You can download a postcard in the shape of a bottle, designed by local artist Patrick Murphy, by copying this link - www.barnsley.gov.uk/media/17323/message-in-abottle- postcard.pdf. There is also a copy on the next page.
Add your thoughts, words, reflections, photos, drawings, or artwork to it, then take a photograph of the postcard and share it.
You can share it on social media @HearMyVoiceBsly on Facebook and @HearMyVoiceBsly on Twitter, or email it to hearmyvoice@barnsley.gov.uk
---