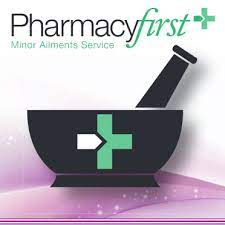 Description
Through the Pharmacyfirst service you can get extra advice, guidance and support for a range of common, minor short-term health conditions. Your pharmacy team will be able to offer you a cost-effective range of treatments to manage your condition. For some conditions, you may also be able to receive free treatments from your pharmacy if you are eligible for free prescriptions.
From August 2019, in line with national NHS guidance, your doctor, nurse and pharmacist will not generally give you a prescription for, or supply free of charge, medicines which can be bought over the counter for common, minor, short-term health conditions. If you do pay for your prescriptions, then the cost of the medicine should be much less than the current prescription charge.
Your local pharmacy team play a key role in advising you on common, minor health concerns and if your symptoms suggest it's more serious, they'll ensure you get the care you need. They can offer the enhanced Pharmacyfirst service giving you personalised advice on what treatments might be best for you and how long you can expect your symptoms to last.
How do I know if I can use the Pharmacyfirst Scheme?
The Pharmacyfirst scheme is available in participating pharmacies across Barnsley to anyone registered with a Barnsley GP practice.
What about children?
Children can be treated for certain conditions depending on their age and what medicines are available. Some medicines can only be given to younger children on prescription. Sometimes the pharmacist will need to see your child to make sure the right advice or treatment is given.
How do I know which pharmacy to go to?
The pharmacies offering this service will display a Pharmacyfirst sticker in their window. You can find a list of these pharmacies by visiting www.barnsleyccg.nhs.uk/pharmacyfirst.
What conditions are included?
All the minor health conditions 
Allergies
 Earache
Eczema
Scabies
Vaginal thrush
Head lice (From August 2019 pharmacists will provide enhanced guidance and support and will only be able to supply the Nitty Gritty combs or Bug Buster Kits for the treatment of head lice.)
Will I always receive medicine?
No, because you may not require any. If this is the case the pharmacist will give you advice on how best to treat your symptoms. If it is appropriate the pharmacist will give you the right medicine. This medicine is only for you and should not be used for anyone else. The pharmacist will also tell you the best way to take the medicine and other ways to help manage your symptoms. If the pharmacist thinks you need to see your doctor or nurse, the pharmacist will provide you with a referral slip for you to take to your GP. This will indicate to your doctor or nurse that you have been to the pharmacy and the reason you have been referred to them.
What should I do if my symptoms don't improve?
It is important that if your symptoms haven't improved after the time your pharmacist has advised, or you start to feel a lot worse, you should:
• Go back to the pharmacy for further advice
• Call NHS 111, or
• Contact your GP or iHEART Barnsley GP service
---
Opening Times
Participating Pharmacies around the Dearne area offering the PharmacyFirst service. For opening times and contact details visit the NHS search for a service website.
McGill Pharmacy

37 High Street, Wath On Dearne, Rotherham, South Yorkshire, S63 7QB

 

McGill Pharmacy

63-65 Knollbeck Lane, Brampton, Rotherham S73 0TW

Rotherham Road Pharmacy 

4 Rotherham Road, Great Houghton, Barnsley S72 0DB

Rowlands Pharmacy

Chapelfield Medical Centre, Mayflower Way, Wombwell, Barnsley S73 0AJ

Stone Pharmacy

Garland House Surgery, 1 Church Street, Darfield, Barnsley S73 9JX

Weldricks Pharmacy

St Andrews Square, Bolton-On-Dearne, Rotherham S63 8BA

Weldricks Pharmacy

Thurnscoe Centre, Hollybush Drive, Thurnscoe, Rotherham S63 0LU

Weldricks Pharmacy

The Goldthorpe Centre, Goldthorpe Green, Rotherham S63 9EH

Weldricks Pharmacy

26-28 Barnsley Road, Goldthorpe, Rotherham S63 9NF

Weldricks Pharmacy

Welfare Road, Thurnscoe, Rotherham S63 0JZ

Well

2 Snape Hill Road, Darfield, Barnsley S73 9JU

Wm Morrison Pharmacy

Cortonwood Retail Park, Brampton, Rotherham S73 0TB

Boots UK Ltd

   Unit 2, Cortonwood, Barnsley, S73 0TB

 

 

 

 

 
 
 
 
 
Participating Barnsley Town Centre Pharmacies
| | |
| --- | --- |
| Superdrug Pharmacy | 24/32 Cheapside, Barnsley S70 1RR |
| Boots UK Ltd | 34-40 Cheapside, Barnsley, South Yorkshire S70 1RT |
| Lloyds Pharmacy | Unit C1, Barnsley Transinterchange, Midland Street, Barnsley S70 1SE |
---
Locations
Address details:
Barnsley
---
Published: 27 July 2021
---