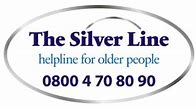 Description
The Silver Line operates the only confidential, free helpline for older people across the UK that's open 24 hours a day, seven days a week. We also offer telephone and letter friendship schemes where we match volunteers with older people based on their interests; facilitated group calls; and help to connect people with local services in their area.
Silver Circles Silver Circles are facilitated group telephone calls where people with shared interests can discuss topics that interest them with a wider group. This is enjoyed by people who would like to speak with more than one person at a time.
Calls are free for people taking part, as costs are covered by The Silver Line.
Find out about more about volunteering opportunities with The Silver Line by visiting our website.
---
Contact Details
Contact name: The Silver Line Team
Email address: info@silverline.org.uk
Phone number: 0800 4 70 80 90
Mobile number:
---
Locations
Address details:
Nationwide, S75
---
---
Published: 09 August 2019
---