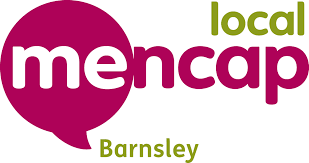 Description
Local Mencap Barnsley is an independent charity, affiliated to Royal Mencap by way of a mission to advance equality for people with Learning Disabilities. It is often assumed that we are well resourced due to connection with a national charity, we are in fact a small and completely independent charity and are governed by local people, and raise all our own funds to deliver local projects.
Our role is primarily to provide localised recreation, leisure and social facilities, and activities to recognise achievements and to encourage inclusion and reduce isolation within the community to those with learning disabilities of all ages. We also ensure people with a Learning Disability and their families are listened to, understood and included as equal citizens in Barnsley.
Providing the right support and opportunities to enable individuals and families to achieve a greater quality of life. We are run by a board of 9 trustee's/committee members including two members representatives with learning disabilities. There are currently two paid members of staff, a full time Business Development Manager, and a Business Development Coordinator and a team of dedicated volunteers. We are a passionate group of people committed to changing the world around anyone with a learning disability.
We are always looking to grow our club by welcoming new members to join our activities.
If you would like to volunteer, have drive, ambition, determination, and would like to improve the lives of anyone with a learning please get in touch with a member of our team.
To pledge your support please go to our donation pages at Local Giving.
We are re-opening after Covid-19 !
Our Vision
To Ensure People with a learning disability and their families are listened to, understood and included as equal citizens with access to support and opportunities that empowers them to lead a fulfilled life.
Our Mission
To change societies attitudes towards people with learning disabilities and improve the quality of life of these people and their families
Making a difference here and now
Improving Health
Early intervention
Reduce stigma and discrimination
Supporting friendships and relationships
To empower people
Promote equality
Provide opportunities within the community
Provide access to activities and leisure opportunities
Our Values
We are trustworthy and honest. We will do everything within our power to uphold our promises to you
We are inclusive. Our aim is to include everyone with a learning disability in everything we do
We are positive. We are proud of all we achieve and believe in bringing a better future for all with learning disabilities
If you would like any further information, please contact Jayne Armstrong on 01226 779919.
Please keep an eye out on Facebook as all of the latest information will be posted on there. Please pass this message on, so nobody misses out.
---
Contact Details
Contact name: Jayne Armstrong
Email address: localmencapbarnsley@gmail.com
Phone number: 01226 779919
Mobile number:
Address: Compass House, Castlereagh Street, Barnsley, S70 1BA
---
Locations
Address details:
Compass House, Castlereagh Street, Barnsley, S70 1BA
---
---
Published: 09 August 2019
---