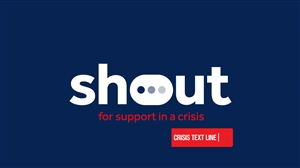 Description
Shout is the UK's first free 24/7 crisis text line available for anyone, anytime, anywhere. The service is anonymous and off bill. It is powered by a nationwide team of Crisis Volunteers, supported by expert Clinical Supervisors. This is a place to go if you're experiencing a personal crisis, unable to cope and need immediate help. This is a completely new type of volunteering.
We're giving you the chance to: 
Have an impact on people's lives and make a difference by resolving crises
Learn communication, problem solving and crisis management skills recognised by employers, unis and colleges as essential skills
Enjoy being part of a pioneering team
Volunteer the way you want – from home in your pj's, in the office or with a group of friends 
Access ongoing professional development with a dedicated Coach
But, being a Crisis Volunteer isn't for everyone.
You need to: 
Be over 18 - Be resilient and mentally robust to help people in distress
Commit to 25 hours of online training and then fulfil 200 total hours of volunteering; that's 2 – 4 hours volunteering per week
Have empathy and be able to be objective
Put your own personal views to one side to help the texter
Have a secure web connection, laptop/computer and access to a quiet place
Be able to volunteer from the UK
Provide 2 referees and consent to undergo a background check
If you're looking to be a UK Shout Crisis Volunteer to help people in crisis, you're in the right place.
---
Contact Details
Contact name: Visit our website to sign up
Email address: info@giveusashout.org
Mobile number:
---
Locations
Address details:
Nationwide
---
---
Published: 09 August 2019
---