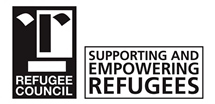 Description
The Refugee Council is one of the leading organisations in the UK working with refugees and people seeking asylum. We not only give help and support, but also work with clients to ensure their needs and concerns are voiced and addressed.
Our Barnsley Refugee & Asylum Seeker Advice Service team provides advice and community development support to refugees and asylum seekers living in Barnsley. Our project delivers advice on a range of issues from accessing asylum support, access to health, legal representation through to move on support, post positive decision through a advice line and face to face advise sessions.
The community development and volunteer coordination part of the project supports members of the community as well as our client group to find fulfilling volunteer roles to support our project's delivery. We offer training to organisations, charities, businesses and different community groups as well as awareness raising at various events.
We also offer a range of free, regular activities for refugees and asylum seekers living in Barnsley, including an ESOL class, conversation club, orientation tours for new arrivals as well as regular information briefings and trainings for clients.
If you are interested in a volunteer role please get in touch.
This venue is part of the Barnsley Safe Places Scheme.  For more information, visit https://www.safeplaces.org.uk/member-schemes/barnsley/bcvs-trading-23-queens-road/
---
Opening Times
Mon, Tues, Wed, Thurs  - 9.30am - 5pm
---
Documents
BARNSLEY REFUGEE ADVICE REFERRAL FORM PDF Version
---
Contact Details
Contact name: Christina Grant
Email address: Christina.Grant@refugeecouncil.org.uk
Role: Coordinator
Phone number: 01226 320 111
Mobile number:07917 135843
Address: 23 Queens Road, Barnsley, S71 1AN
---
Contact name: Jackie Wray
Email address: jackie.wray@barnsleycvs.org.uk
Role: Asylum Advisor
Mobile number:
---
Contact name: Khaled Alayoubi
Email address: khaled.alayoubi@RefugeeCouncil.org.uk
Role: Integration Officer
Phone number: 01226 320111
Mobile number:
---
Locations
Address details:
23 Queens Road, Barnsley, S71 1AN
---
Published: 09 August 2019
---