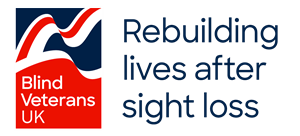 Description
Together we can rebuild blind veterans' lives after sight loss Blind Veterans UK helps ex-Service men and women of every generation rebuild their lives after sight loss.
Since 1915 we've provided rehabilitation, training, practical advice and emotional support to tens of thousands of blind veterans. It's a sad fact that many of the blind veterans we support suffer from social isolation. It's not just about losing other people though, it's also about being isolated inside yourself when you are unable to carry out tasks such as going to the shops or even pick up a phone to speak to a friendly voice. For those who can't see, it often leads to losing your self-belief, and even worse your sense of belonging.
We are here to help anyone who has served in the Armed Forces, or who has done National Service, and who is now living with significant sight loss.
We are able to help Blind Veterans with:
Applying for free support
Applying for support as a carer
Applying for support as a health care professional who are working with people affected by sight loss
For anyone new to Blind Veterans UK, we offer a week long introduction course as a start to our life-long support. We also offer rehabilitation and training including tasks and solutions to aid independent living and for those who are unable to no longer live independently we can offer care including nursing and residential care in our centres.
We have a range of activities taking place throughout the UK - Arts & crafts - Clubs and societies - Sports & recreation Visit our website to see how we can support you.
You can help us by being part of a team that works together to transform blind veterans' lives, whether it's through fundraising, giving some of your spare time as one of our community volunteers, or simply by giving us a small donation.
---
Contact Details
Email address: info@blindveterans.org.uk
Phone number: 0300 111 2233
Mobile number:0800 389 7979
---
Locations
Address details:
nationwide
---
---
Published: 09 August 2019
---