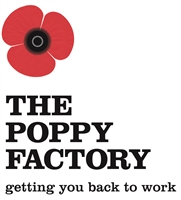 Description
The Poppy Factory provides employment support and guidance to ex-Forces men and women with health conditions or impairments.
Our support includes:
Application process guidance such as CV's, applications forms and interview preparation.
Help in the workplace to identify any required adaptations to support veterans staying in work
Liaison with relevant clinicians to ensure veterans have consistent support
Training and qualifications where they are a requirement for the role
Signposting and referrals to partner organisations with ongoing collaboration.
Visit our website for more information and to register or alternatively, you can call or email us.
---
Contact Details
Contact name: Poppy Factory
Email address: support@poppyfactory.org
Phone number: 020 8939 1837
Mobile number:
---
Locations
Address details:
Online
---
---
Published: 09 August 2019
---