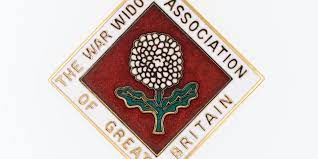 Description
The War Widows' Association of Great Britain was formed in 1971 becoming a registered charity in 1991 and has developed into the United Kingdom's leading representative organisation for widow(er)s of Armed Forces Personnel where death has been caused by or hastened by service.
Everything that we do is based around our 3 core values:
Campaign: Campaigning is the foundation of the War Widows' Association; the Association has managed many successful campaigns to improve the conditions of War Widows and War Widowers.

Care: We care by signposting members to the appropriate help and through our network of Regional Organisers we offer friendship and support.

Remembrance: The third pillar of the War Widows' Association is a very important part of its programme of events.
Our current projects include:
War Widows in touch Project - iPad provision and training throughout the UK to 50 members over 65 years old who do not already own a tablet with the aim to increase digital skills and online communication. Training will be group based and it is anticipated this will be set up and carried out at community centres across the UK and be  volunteer-led.  Members with their own device will be welcome to come along to these training sessions.  We also will develop an online community space within the War Widows website for members to connect with each other.
Previous campaigns and projects include:
Since its formation the Association has, among other things:
Removal of income tax from the War Widows' Pension
Extra age allowance for War Widows
Improved pension for pre-1973 War Widows
Reinstatement of pension to War Widows on cessation of second or subsequent marriage
Renewal of opportunity for War Widows to visit the grave of their husband through sponsored pilgrimage
Retention of the attributable MOD occupational pension on remarriage
Retention of the War Widows' Pension for pre '73 widows.
---
Contact Details
Contact name: War Widows Association
Email address: info@warwidows.org.uk
Phone number: 0845 2412 189
Mobile number:
---
Locations
Address details:
Nationwide
---
---
Published: 21 March 2022
---