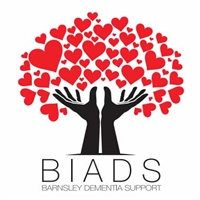 Description
BIADS is a local dementia charity providing advice, support, care and a range of meaningful activities for both people with dementia and their carers.
At our Joseph Exley Centre on Dodworth Road, we have a three person Carer Support team who are available to offer on-going support and advice from the point of diagnosis all the way through the "dementia journey". They hold specific Carer Support group sessions where carers can meet others in a similar situation and share coping mechanisms and offer each other friendship and support.
We also have a four person activity team who run many different sessions aimed at both couples and also individuals; they include:
Light exercise

Singing

Crafts

Reminiscence

Gentle dancing

Walking

Yoga

Drop in cafes.

The activity team organise two 5-day holidays a year, two day trips and several tea dance type socials.
We also have a Multi -Sensory room which can provide much needed relaxation for both carer and people with dementia alike.
Our other premises are on Eastgate in Barnsley town centre and this is where our Day Care centre is based; here our welcoming and trained staff will look after your "loved one" and their needs. They will provide a range of suitable activities to entertain and engage our clients, offer food and refreshments and most of all a level of excellent care and consideration.
No matter when and why you pay a visit to our centre you can be assured of a friendly face and a cup of tea!
BIADS offers a comprehensive support package for families whose lives are affected by dementia.
Please visit our website for more information about our activities.
---
Contact Details
Contact name: BIADS
Email address: biads@btconnect.com
Phone number: 01226 280057
Mobile number:
Address: Joseph Exley House, Dean Street, Barnsley, S70 6EX
---
Locations
Address details:
BIADS' Support Centre, Joseph Exley House, Dean Street, Barnsley, S70 6EX
---
---
Published: 09 August 2019
---