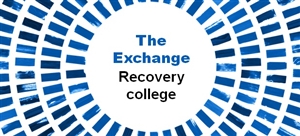 Description
The Exchange Recovery College takes and educational rather than a clinical approach to improving mental health.
Unfortunately due to the recent announcement on January 4th 2021 and the country entering lockdown, we are sorry but we have to close our doors to learners.  There are a few online courses going ahead which are detailed on our Facebook page and our website.
Please find attached our prospectus for next year.  We've put on Core courses again which have been very popular in the past few months, in addition to a few new ones we think people may benefit from.
http://www.barnsleyrecoverycollege.nhs.uk/courses-and-enrolment/enrolment/
We offer a range of courses and one off workshops with the aim of improving wellbeing through learning which are all co-designed and co-delivered by people with real life experience of mental health and recovery who work in conjunction with NHS professionals, education providers and trainers to share what works for them.
We have now introduced an Introductory Workshop that will help you find out more about the Exchange and the courses we offer, give you a chance to have a look round and can help you choose a course that is right for you. This introductory session is a requirement for anyone interested in attending college for the first time.
The aim is to offer subjects that would not be always available within mainstream education and include:
Developing my Mental Health and Wellbeing: longer courses which focus on developing our understanding of recovery and creating opportunities for self-management.
Maintaining Me: Wellbeing workshops are experimental workshops which provide the space and time to reflect on you and your own emotional resilience.
Time for Me: Practical courses which offer the opportunity to try something new in an informal and supportive environment. 
Taking Control in Life and Recovery: One off workshops and longer courses that provide an opportunity for self development and recognition, sharing your skills and experience. 
Complementary Therapies: Complementary treatments fall outside of mainstream health care and may be used to compliment or as an alternative to medication in supporting your health and wellbeing. 
Physical Activity: Improve your fitness and health with the physical development team, based at The Exchange.
We're also really excited about our new website - take a look -  https://www.barnsleyrecoverycollege.nhs.uk/about-us/ here you can learn more about our courses, volunteering and enrol:- http://www.barnsleyrecoverycollege.nhs.uk/courses-and-enrolment/enrolment/
This venue is part of the Barnsley Safe Places Scheme.  For more information, please visit: https://www.safeplaces.org.uk/member-schemes/barnsley/the-exchange-recovery-college/
Please contact us for more information.
---
Opening Times
Monday - Friday 9am - 5pm
---
Documents
Barnsley RC Prospectus Jan April 2021 PDF
---
Contact Details
Contact name: Principal: Jane Taylor
Email address: Barnsley.Recoverycollege@swyt.nhs.uk
Phone number: 01226 730433
Mobile number:
---
Locations
Address details:
33 Gawber Road, Barnsley, S75 2AH
---
Other Details
Cost: No charges for the majority of courses unless delivered by WEA then these are means-tested.
---
---
Published: 09 August 2019
---